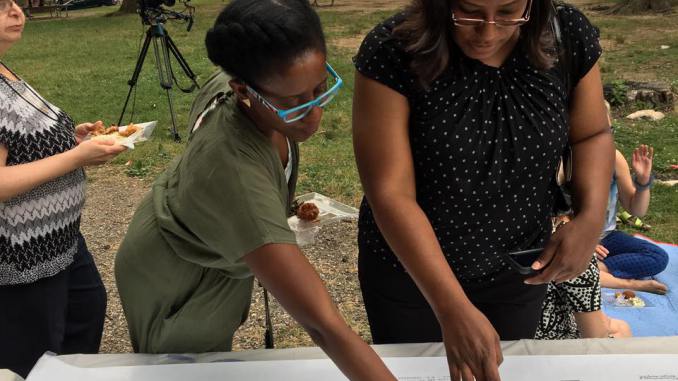 THE WASHINGTON INFORMER | Eve M. Ferguson | June 28, 2017
On a typically muggy late June evening, a small group of people gathered picnic blankets and tables on the lawn outside of the Anacostia Community Museum, as whirring cicadas complemented the sound of a circular saw and a slim brown woman giving instructions.
Read More from THE WASHINGTON INFORMER
BYT | SVETLANA | November 16, 2016
In this time of uncertainty, art projects that focus on building and engaging communities are more important than ever. Art can be a catalyst for conversation that brings people together, closes the gaps between us. SEE/CHANGE, a public art video installation that is part of this week's programming is one of those catalysts, engaging the community along the lower Georgia Ave. corridor. We caught up with Philippa Hughes of Pinkline Project, the driving force behind SEE/CHANGE, which runs through November 20.
SEVEN:THIRTY | Lily Strelich | Nov 21, 2016
If you braved the wind this weekend and happened to stroll through Park View, you might have seen the faces of your neighbors projected onto Georgia Avenue walls and storefronts.
Urban Land Institute Advisory Services Panel Report for Collier County, Florida | January 29 to February 3, 2017.